"Characters, characters, characters" – Galbraith's Cormoran Strike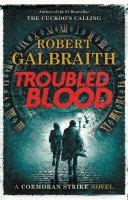 Brad Taylor, author of the Pike Logan Thriller series, noted in a recent New York Times Book Review's By the Book column: "Setting, pace and trajectory are important, but they're irrelevant without the reader's emotional investment, and that is driven by characters." No doubt it is the character of Cormoran Strike appearing in the eponymous series of crime fiction novels by Robert Galbraith, set in contemporary London, that has kept me reading. Galbraith is the pen name of British author J.K. Rowling. Strike is a big lug of a guy with a prosthetic leg; he is a throwback to the down on his luck private eye depending for sustenance, mental and physical, upon whatever walks through the door. His backstory is complex enough—he's a former military policeman and the illegitimate son of a rock and roll musician—and he has a capable side-kick name Robin. I just finished reading the first in the series, The Cuckoos Calling (2013), and I am already on to the next, The Silkworm (2014). The latest in the series, Troubled Blood, appeared in September 2020.
*Taylor's most recent installment in his Pike Logan Thriller series, American Traitor, just appeared.
Setting, setting, setting
Having stated that characters are paramount, I need to add that setting is a factor in what I like to read and, especially as we sit here in winter of 2021, a bit of sun is always welcome. A library patron suggested David Baldacci's Atlee Pine series and I started with Long Road to Mercy (2018), the first book in the series. Pine is an FBI agent "with special skills assigned to the remote wilds of the southwestern United States." I like the main character, and I am drawn to the vivid southwestern setting. The crime that sets off the narrative takes place at the bottom of the Grand Canyon. I cannot get enough of the Grand Canyon and its environs, so when the characters dine at the El Tovar hotel with its breathtaking view of the canyon, the armchair traveler in me is delighted. Daylight, the latest Atlee Pine, appeared in November 2020.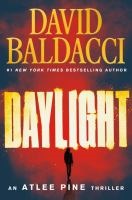 Speaking of setting, I just read If Looks Could Kill (2002), the first book in the Bailey Weggins series by Kate White. This first-person story is set in the publishing world of NYC. I used to work in this milieu, and so it was fun to be plunged into that world again. The details of editorial meetings and book parties are spot on—not surprising as Kate White is a former editor-in-chief of Cosmopolitan magazine. The most recent installment in this series is Such a Perfect Wife which appeared in 2019.
–K.E.