Take a walk to view the Town of Johnsburg Library's Sheep Take a Hike StoryWalk®–on this short walk, on a portion of the Carol A. Thomas Memorial Walking Trail in North Creek, NY, you can enjoy a story and the outdoors together. Start the StoryWalk® on the trail beside the gazebo near the back entrance of the library. Follow the numbered displays along the trail to read the story. There are fun activities with each page. The StoryWalk® will be up from Saturday, August 21 until Wednesday, October 13. Stay tuned for more StoryWalk® events throughout the year.
Check out this article North Creek's 'StoryWalk' offers a new family activity for the area about the The StoryWalk® appearing in the Sun Community News.
Let us know what you think about the Town of Johnsburg Library's STORYWALK® by taking our short STORYWALK® survey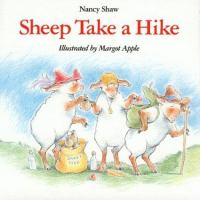 The StoryWalk® Project was created by Anne Ferguson of Montpelier, VT and developed in collaboration with Kellogg-Hubbard Library. StoryWalk® is a registered service mark owned by Ms. Ferguson.
This project is generously supported by the Community Fund for the Gore Mountain Region at Adirondack Foundation, the community foundation serving the Adirondack Region. The Foundation works to enhance the lives of the people in the Adirondacks through philanthropy.