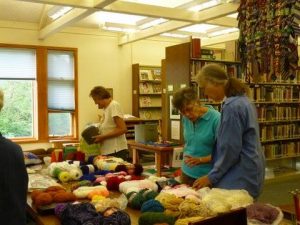 GIVE or TAKE
The Knitting Circle at the Town of Johnsburg Library is hosting a material
"swap" on Saturday, August 27, 2016, 9:15- 10:15 am (setting up at 9:15). Bring in anything from small amounts of yarn to projects you no longer want, extra equipment (including knitting needles of any size or shape) and crochet hooks, markers, and guide cards. Clean out that unused stash! Bring an extra bag to bring home new materials for that next project, or those little odds and ends you need for granny squares or striped work. If you bring it in and it doesn't find a new home, we ask that you take it back. 
Coffee, tea, and a snack will be available.
If you have nothing to bring to the "swap" – no problem! Bring yourself and feel
free to bring home a new project. We're looking forward to meeting others who
like working with fibers. So those of you who crochet are welcome too.
This is our 3'rd Annual GIVE or TAKE. We had so much fun with the last two and we were able to meet so many who knit but can't always join us at the library on Thursdays from 2:30- 4-pm.
We decided to host another, hope to see you there!
– The Knitting Circle at the Library –
*Reminder that the Knitting Circle meets every Thursday from 2:30 – 4:00 PM